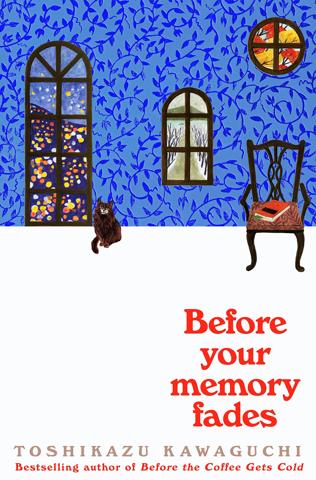 Before Your Memory Fades
| | |
| --- | --- |
| author: | Toshikazu Kawaguchi (2022) |
| translator: | Geoffrey Trousselot |
| date read: | 12 September 2022 |
| rating: | ★ ★ ★ ★ ★ |
This is the sequel to Before the Coffee Gets Cold and Tales from the Café. It's another beautiful collection of stories, that continue to push the boundaries of the mechanic, and I cried buckets at each of them.
an orphan who wants to go back and rebuke her parents, for the difficult life she had after they died when she was young
a comedian who goes back in time to tell his dead wife about winning an award she always wanted for him
a sister who travels forward to make sure her older sister won't be sad after her pending death
a young man who travels back to profess his love to a friend, when he only realises his feelings after she leaves for America for lifesaving treatment
And alongside them is a rich cast of café regulars (although different from the previous two books; it's a new café), who help guide these people as they decide whether to travel in time.
I think it leans more on knowledge of the prior books and the mechanics, and I think that's to its advantage – it gets to go deeper on the character moments, which is where this book really shines. It's a little fairytale at points, but it works for me.
A fine addition to the series.
(see all reviews)