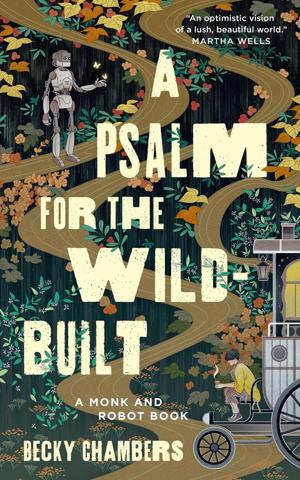 A Psalm for the Wild-Built
(Monk & Robot Book 1)
| | |
| --- | --- |
| author: | Becky Chambers (2021) |
| date read: | 3 January 2022 |
| rating: | ★ ★ ★ ★ ★ |
The subtitle is a "A Monk and Robot book", and that's very literal. Dex is a monk who's feeling lost and directionless; they venture out into the wilderness, and meet Mosscap, a robot who wants to understand humans better.
Through their conversations, they talk about having a sense of purpose, and whether that's something instinctual or learned behaviour. It felt very timely for the start of 2022, and something I'll be thinking about for a long time.
The world they inhabit feels fundamentally hopeful and positive. I've heard interviews where she describes it as "solarpunk", and I think that fits. It's a world that nearly had an environmental catastrophe, but a mass walk-out by the robots was the push to turn the world around. The worldbuilding isn't the point of this book, but it adds nice colour to the conversations.
(see all reviews)